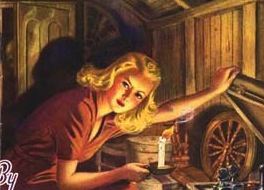 Remember getting the detecting bug when you were a kid? Imagining yourself as Nancy Drew, Judy Bolton — or one of Enid Blyton's four young English explorers who were always caught alone in fogbound mystery adventures during their "school hols," and eating lovely-sounding things like "biscuits" and snacks in a "tin?" (I've always been entranced by the fun and beauty that stands out in British writing!)   Ever find a clue in an old book or write in a mysterious code  known only to you and your best friend?
I have a memory of someone giving me my first Nancy Drew book.  I stuffed it in my bookshelf, sneaking a shivering glance at the intriguing cover every now and then, but somehow being too fearful to open and start reading.  What mysterious story was in its pages?  Would it petrify me to read it – or (cue spooky music) actually… be… fun?
I'd already been devouring all the earlier, tamer mystery series and loving them…but there was something cloaked in swirling fog about Nancy as she stood in the dark, looking over her shoulder and shining a flashlight (um, I mean torch) up a cold and frightening set of stone stairs, that made me a little nervous…  until one day I decided to take the plunge, found myself panting alongside her, glorying in every delicious moment of clue after clue, wishing I could find a tearoom like she seemed to frequent or race along in a lovely blue roadster like hers… and laughing at myself for letting fear keep me so long from her.  I began to haunt my school library that held rows and rows of her originals in all their musty-scented delight… How I loved turning their wispy thin pages and holding those treasures in my hands! (Can a Kindle do that??)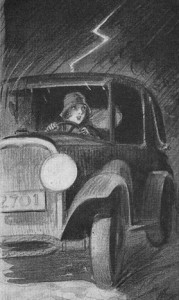 Sometimes, when I was too sick to go to school – but not too ill to read! – I'd finish two novels in one swoop!  Nancy's world of fighting thugs who locked her in secret passageways would have stopped my heart in real life, but it was safe and wondrous in the pages of her books… and something in me longed to bring a bit of her intrigue into my non-eventful life…
So, one day, I ran a brilliant idea by my pen pal, Leanne.  What if we made up a sort of stick-figure language code that only we two could decipher?  I created half of the "alphabet" and I think she concocted the rest.  Oh how tingly it felt to be writing half our letters in code… whirring them back and forth across two states to someone each of us had never met in person.  It added spice to our humdrum lives and made each missive as fun to anticipate and receive as discovering a clue in an old book must've made Nancy…   Sadly, I lost touch with Leanne and still think of our letters, wonder if she remembers too…
Once, when I was researching a story about the life of children's mystery writer Enid Blyton, I came across a fact that made me out and out grin.  One of the characters I'd always loved in her stories was the only adult who ever played prominently in the adventures – a great, warm, strong-hearted detective named Bill.  He and the children were always helping get each other out of the most fantastic scrapes, and he'd appear at the most cliff-hanging times in the story, always a comforting and endearing strength…
"I met the real Bill briefly one vacation," Enid described in her fun autobiography written for children to read, "and immediately wanted him in my books." She decided to base a recurring character around him in her stories…   Thinking of this man who inspired Enid, it makes me kind of sad to think… he probably never knew he'd been immortalized in her writing!   But how I love that story!
Lately, I've been pondering how that love of detecting or undercover adventure stays in my heart – even now — bringing back that secret agent feeling I found in devising those coded letters.  (No wonder the story I just sold to Highlights is a fun mystery about a kid sleuth – Daring Dani and the Case of the Baffling Yellow Sticky-Notes!) Only, it's more of a sort of undercover blessing that I'm thinking of these days…  Like something that happened yesterday…
It wasn't exactly a tearoom, but one of my favorite places to grab a bite.  I'd taken a booth in the back to relax after work and as I was finishing, two young girls – looking 18 at the most — sat down beside me, about a foot away.  I wasn't spying really (eavesdropping as a writer is permitted, right?
), but something in their words caught my heart…
"Why did you move out of your house?" asked one of the other, more talkative girl.
"Well, that's a long story… do you want me to go into it?" she answered with a hollow laugh.  Her friend nodding, she began.   "Well, back when I was little and my mom and dad and I lived together…"
Waitresses clattering dishes, coming up to check on me, made it frustratingly hard to hear – and I couldn't catch everything.  But that beginning to her story made me want to listen.  And to pray for this girl.  Because, despite the over-bright tone, the first few words I'd heard told me — there was hurt here.
Snatches came to me as I shamelessly strained to hear… willing the waitress to stay away until I heard more "clues" to pray for her…
"I used to disrespect my dad… I've gotten over it… We get along okay now….  My mom and I had an apartment with only two bedrooms and then her friend and her kids needed a place to stay because her husband couldn't deal with her fibromyalgia… I didn't really mind her coming, and mom said I could sleep with her if I gave up my room… But then I ended up sleeping on the floor and… and you know, I'm happy, really happy out on my own because I feel I am more independent now than ever and this is great…"
Something in her voice sounded over-convincing…  Yes, there was strength in this girl.  I could hear it.  But the pain of a little-girl-lost-too-soon, too…
The waitress was handing me my check, and I listened with one ear… hearing the young girl's friend encouraging her.  "You are always so strong… and when I first met you I knew there was something I admired about you, because you are even  more mature than I am…
I stole a glance.  Yes, I thought.  But too young to have to be that strong…
And so, as they talked, so sincerely… sharing encouraging words with one another… I found my heart silently blessing them.  Asking the Father to put his arms around the one who'd been forced out on her own, showing her His heart, bringing others to her who shine His love, helping her to know she is not alone… does not have to carry the world on her shoulders…
I stood, slipped into my coat, thinking… undercover prayer is a gift of wonder. More filled with clues and intrigue than any make-believe worlds of my old favorite sleuths.  For it was no coincidence that I was sitting here at this moment, lifting up a girl I'll never know and praying blessings for her heart… thinking how she had no idea of so many secret agent prayers surrounding her.
I thought of how often God seems to fill me with a quick prayer when I look into the faces of strangers, see something in their eyes.  Feeling somehow, led to be there, for just such a moment as this.  How even just that morning, sitting at a job I'd only just started, I found myself praying silently for two women sobbing on the other side of the row over some devastating news they'd just heard about a co-worker's family… asking God to comfort as only He can… Putting silent "voice" to the "code" He whispers to my heart… Because He is the one who loves them so…
Yes, that old secret agent, clue-detecting nudge is still in my spirit…                                                         now so much more than kid stuff
As we start this week before Easter, it makes me wonder… who may have been "sent" to waft prayers upward for me … and you… lately? 
How precious to me are your thoughts (about me) God!  How vast is the sum of them! Were I to count them, they would outnumber the grains of sand—when I awake, I am still with you.   – Psalm 139: 17,18