"You really don't have any idea of all the things going on around you, do you?"
~ Spencer Tracy, to another who was unaware of his presence, in the movie "A Guy Named Joe"
.
The other day, I tuned in late to a classic movie I've watched many times over the years.  In the scene then playing, Spencer Tracy – a supercharged training and testing pilot who considered himself invincible — had just fatally crashed his plane and found himself in "aviator's heaven."  He is then "sent back" as a sort of pilot's guardian angel…  one who sits behind all the new pilots in the cockpit, whispering encouragement and wisdom into their ears, getting them through the tough moments, building character and expertise into them, charging them to live and fly LIFE with hope.
Not realizing that he can't be seen or heard by the live people he once walked and talked with as buddies, he stands before one new pilot dumbfounded and, waving his hand close to the unseeing man's face with no reaction, suddenly realizes just how unaware he himself had always been to heaven's unseen help around him.   As he said those words I knew were coming, a sudden picture whispered over me… how THE Word says we are ever compassed about with God's angels…
"You really don't have any idea of all the things going on around you, do you?"
Spencer then rides tail in a plane with a greenhorn pilot who is suddenly frozen with fear and doubts.  The plane is about to fail, but with Spencer telling him to buck up, get hold of himself and the reins, guiding him into calm and wise handling of the craft, the pilot begins to soar and finishes his flight with renewed vigor .  Back on the ground he boasts to his buddies how he had "talked himself into that calm assurance" up there, all the while Spencer is standing behind him, shaking his head.
How often are we gliding along, unaware of the Spirit's lead?  Or of God's ministering and protecting angels of Psalm 91 holding us up?
This scene brought back another picture I heard a minister share recently.   She told of her newly widowed days, how much grieving was naturally a part of them.  Then one morning she woke with such immense joy in her heart that she questioned herself.  "How can I feel so uplifted when my husband is gone?"
A wondering thought wafted gently over her then, like a falling spring blossom touching her shoulder on it's way down.  "I sent my angels to sing My songs of joy over you all through the night…"
Wow.  What an image… God sending a chorus of angels to sing continuously over one of His beloved…
You surround me with songs of deliverance and joy, said the Psalmist.
Ever since I heard that, I've held that image close each night as I go to bed.  That God must be sending His ministering angels to us in so many Valentine ways we have no conception of…  and I find myself asking Him to charge His angels over me, over those I am lifting to Him, to sing their Glory songs over us each.  Not just at night…but throughout the day…
And to make us more aware of all the Love Notes He has winging in and around us.
Those we can see with our eyes… and those known only to our spirit.
For even the flowers and leaves on trees and designs somehow etched into rocks on the beach bare the emblem of His Heart-shaped Love…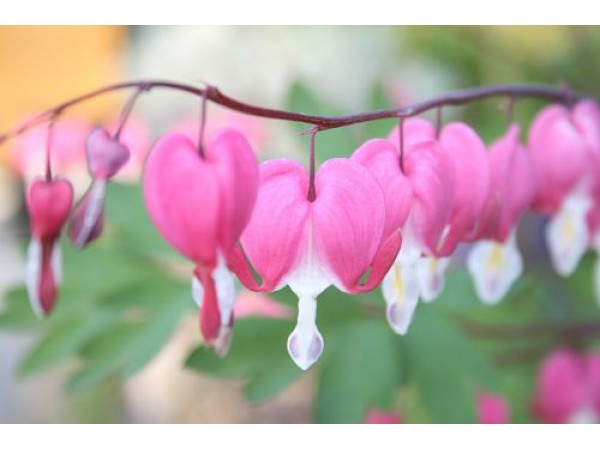 Lamprocapnos Spectabilis, or more commonly known as the Bleeding Heart flower.
Hmm… sounds to me like God spoke into the scientists who named this one… 🙂 — that gorgeous color and shape, a most stunningly beautiful reminder of One who gave His blood for you and for me…
~~~~~~~~~~~~~~~~~~~~~~~~
Valentine Any Time Prayer:  O Lord, send your angels to surround (NAME) today with your songs of love and joy and hope!
~~~~~~~~~~~~~~~~~~~~~~~~
©   Pam Depoyan
pen and ink drawing of little girl above, "You Hold My Heart" : mine.  (Please do not copy without permission. See my copyright info button on the sidebar. 

  )  
See all my valentine designs…available for purchase
in my Valentines for Anytime  gallery  🙂 at Picture It in Pen and Ink (https://pamdepoyanblog.wordpress.com)  — NOT JUST FOR CARDS, BUT PERFECT FOR A CHILD'S ROOM AND MORE…
---